Are you looking for an accommodation in the city?
Visit Eco Del Mare Locazioni Turistiche
Click Here
The Holiday House Eco del Mare
---
It features three cosy villa-apartments with private direct access on the beautiful sandy beach of Capitolo, a little seaside village in Monopoli. The apartments - completely surrounded by greenery - are newly built, made of excellent quality and certified in Class A materials. The resort, in fact, was built using technology and materials environment friendly.
The apartments are equipped with all comforts such as: linen, air conditioning, washing machine, dishwasher, TV, cooking facilities, microwave, kettle, wifi, etc.. They are located in such a way as to ensure the necessary privacy and tranquility to guests, thanks to the lush green surrounding each apartment and in the garden you can admire the spontaneous plants of the fragrant sea lily, now in danger of extinction.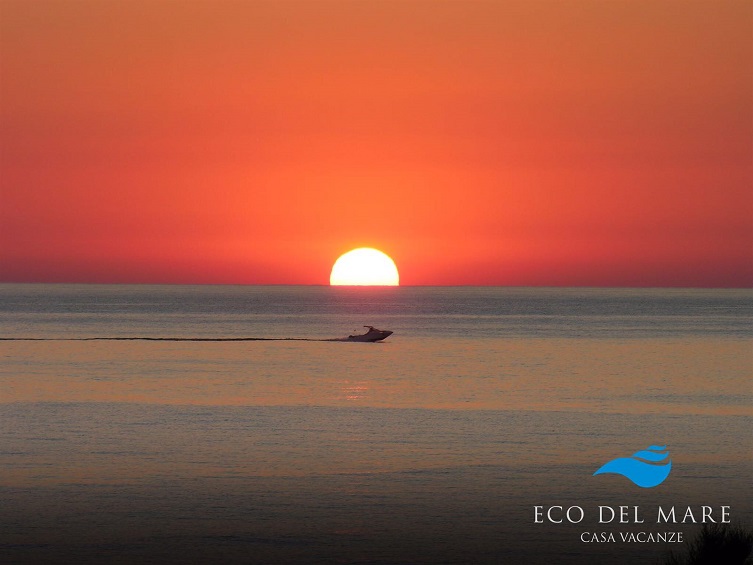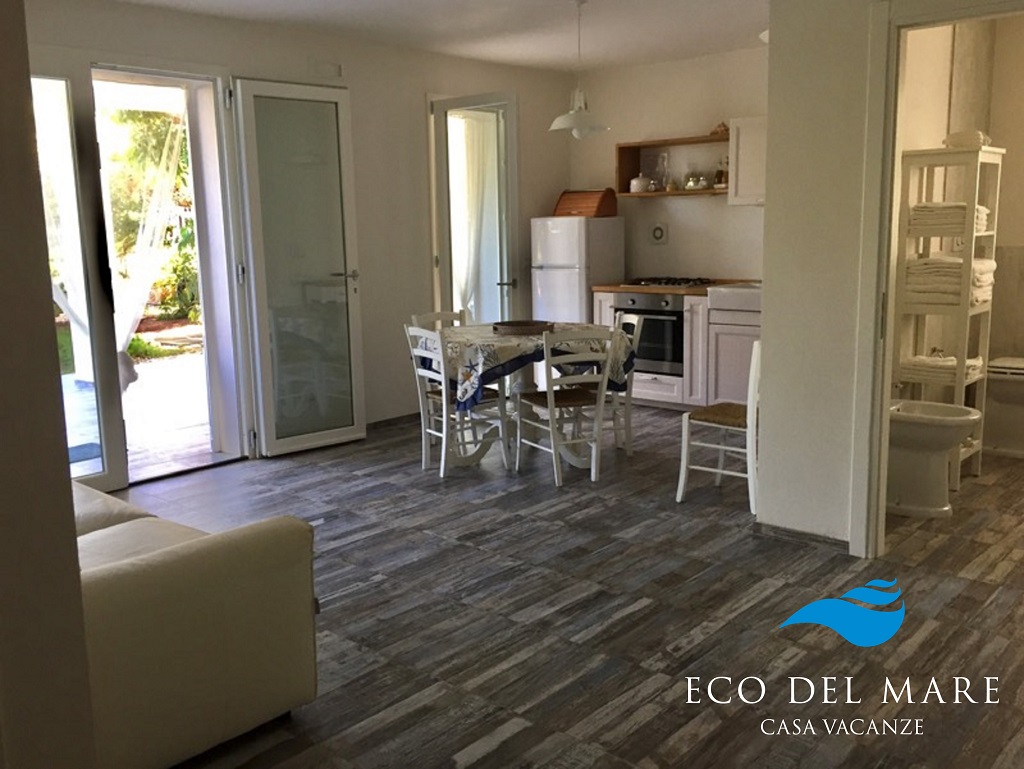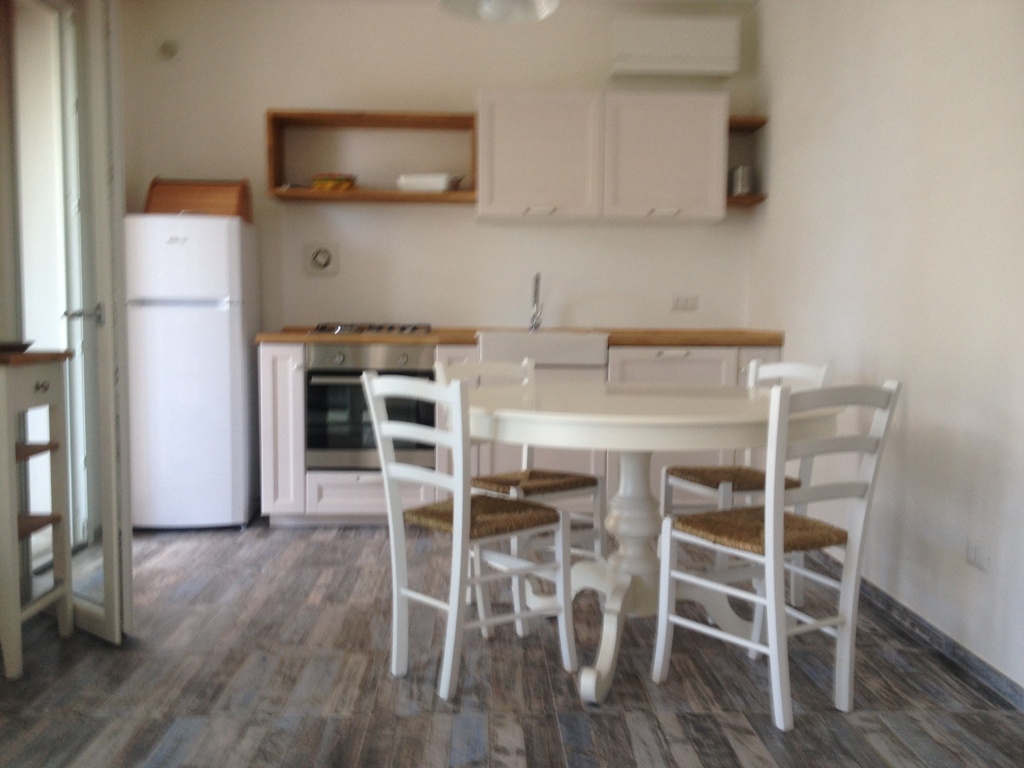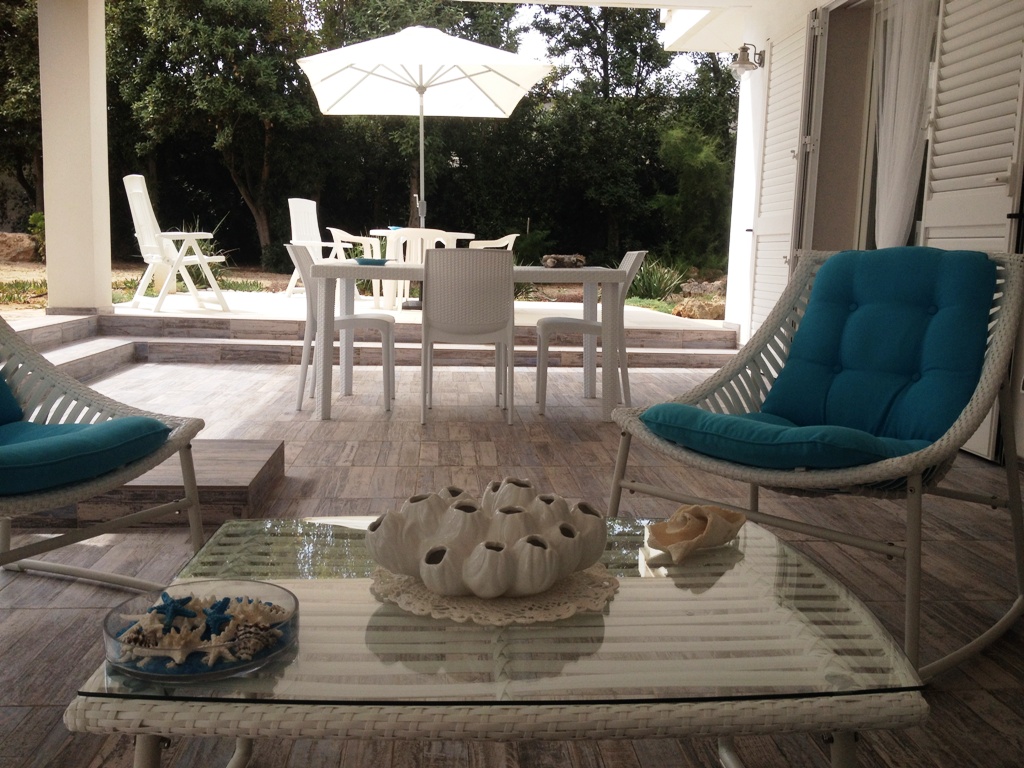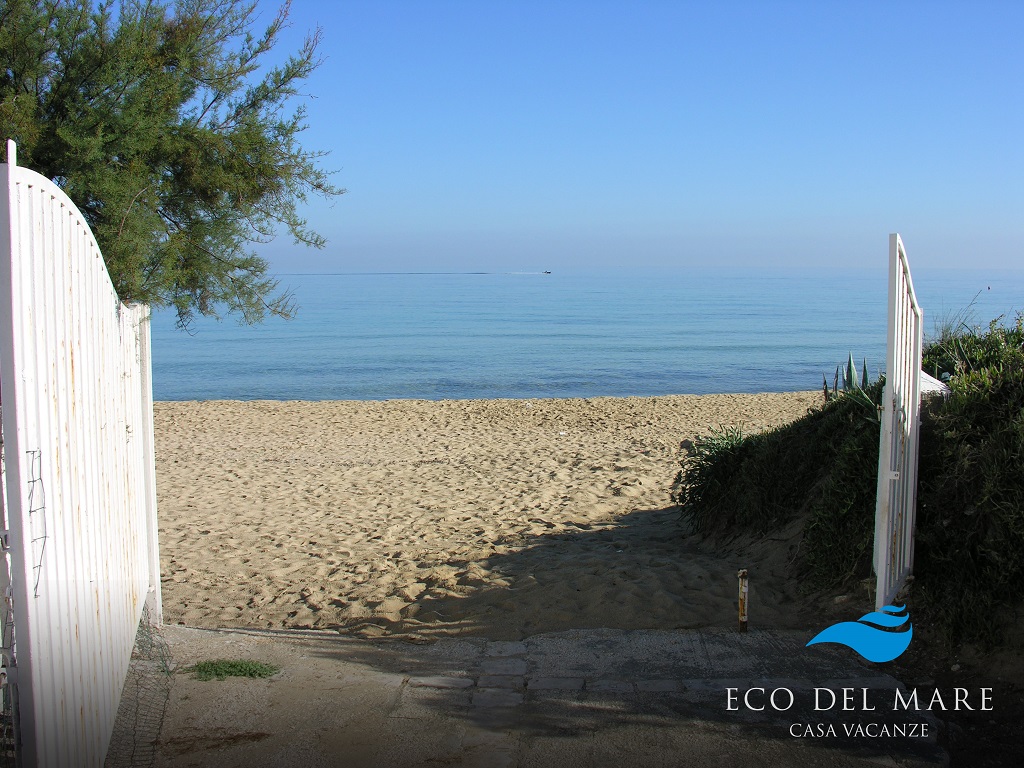 The apartments are characterized by spacious and refined interiors, visuals and surprising perspectives, thanks to environments with large windows that give the pleasure of the wide open spaces; they also have a reserved parking space in a dedicated area. From the garden you can directly access the free beach or the private beach with services.
Bar
Refreshment
Deck Chair Rental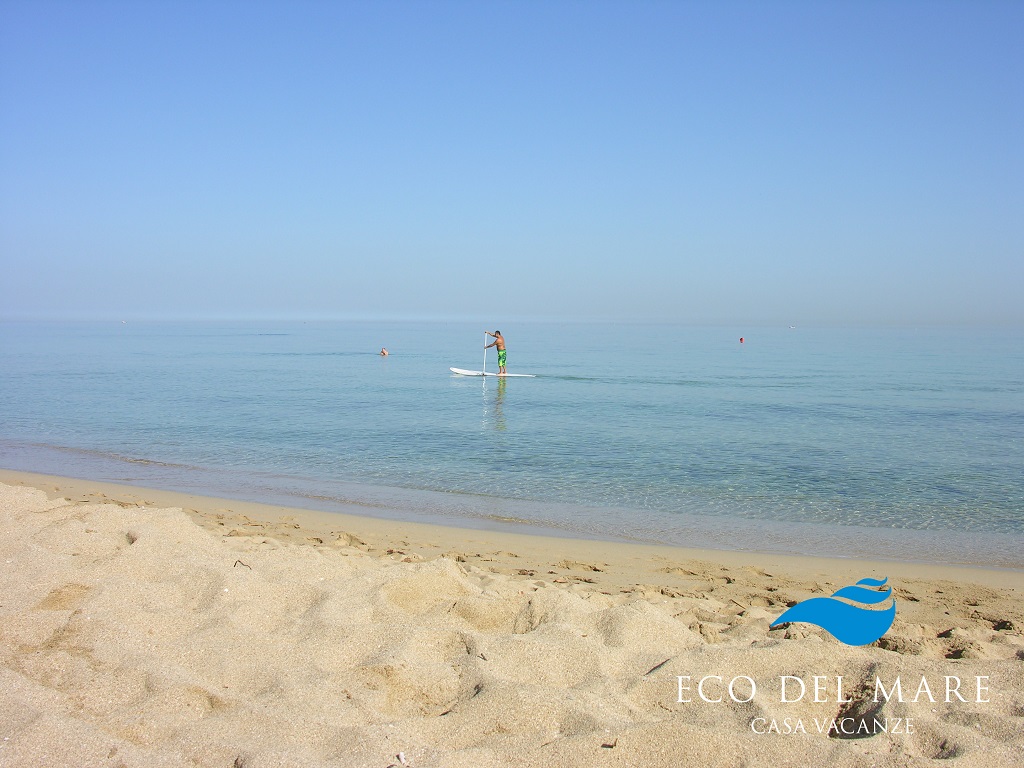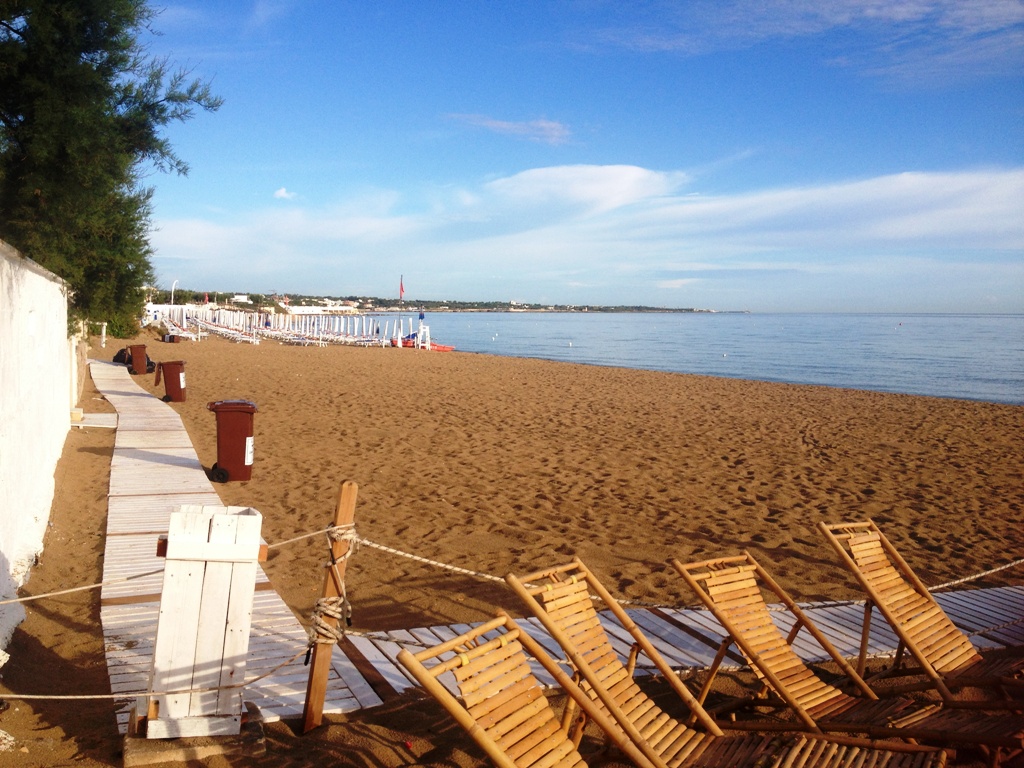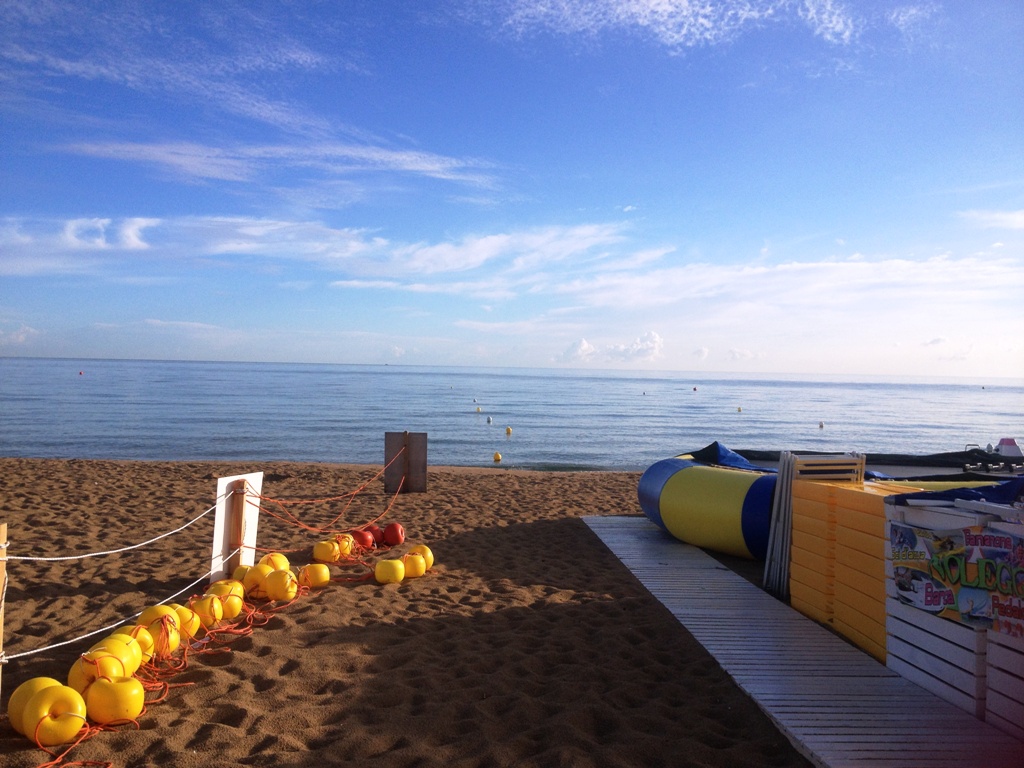 For water sports lovers do not miss the opportunity to practice, by virtue of services adjacent to the structure:
Water Ski
Watercraft
Floating Armchairs
Banana Boat
Pedal Boat Rental
Boat rental for excursions along the coast
...still on ECO DEL MARE
---
Still on the theme of water games, great attraction is the Acqua Park Egnazia, which is only a few hundred meters away. The Eco del Mare holiday house is particularly suitable for families with children, there being no dangers connected to vehicular traffic or the need to cross public roads to reach the sea. Furthermore, the free beach facing the structure is definitely suitable for children, being devoid of pebbles or rocks, as the bottom of the sea is completely sandy. For those wishing to combine relaxation with night-time entertainment, especially in periods of greater tourist influx, it should be noted, in the immediate vicinity, the presence of numerous discos, pubs, entertainment venues in general, easily accessible on foot, which transform the Capitolo's nights in a real nightlife.
The Eco del Mare holiday house has a strategic position also from a landscape-cultural point of view. Indeed, it is only a few kilometers from:
- Monopoli (7 km)
With its beautiful old town where, between ancient buildings and narrow and suggestive streets, stands the majestic Baroque Cathedral of the Madonna della Madia
- Polignano a Mare (15 km)
Known for its high "terraces" overlooking the clear and crystalline waters
- The neighboring Savelletri (4 Km.)
Fraction of Fasano, very popular with tourists and vacationers, famous for its impressive golf course
- The Archaeological Park of Egnazia (2 Km.)
- Fasano (9 Km.)
Known for the ZOO Safari but also for the Olive Oil Museum
- Castellana Grotte (22 Km.)
For its fascinating underground cavities of karst origin of speleological and tourist interest
- Ostuni (35 Km.)
Called "the White City", the Valle d'Itria, also known as "Valle dei Trulli", made up of a series of hills forming part of the Southern Murgia which extends between the provinces of Bari, Brindisi and Taranto, included in the municipalities ofLocorotondo (20 Km.), known for its DOC wine, inserted, together with Cisternino (27 Km.), in the circuit of the "most beautiful villages in Italy"
- Alberobello (25 Km.)
UNESCO World Heritage Site, famous all over the world for its striking and beautiful "Trulli"
- Ceglie Messapica (44 Km.)
Country that boasts the recognition of "city of art and land of gastronomy" andMartina Franca (26 Km.) known for its Baroque architecture and themusic festival of the Valle d'Itria
These places are full of characteristic places along the narrow streets of the historic centers where it is possible to taste typical Apulian dishes; but also simply by getting lost in the streets of the nearby hills, between the contortions of the centuries-old olive trees and the majestic fortified farms, you can discover several farms where you can make real eno-gastronomic tours.
L'appartamento è arredato di buon gusto, pulitissimo e dotato di tutte le necessità. La veranda fronte mare é favolosa e ci ha permesso di pranzare, cenera e rilassarci prima e dopo ogni bagno. Il mare e bellissimo, trasparente e ideale anche per bambini. Luciana e la sua famiglia hanno creato un posto veramente incantevole. Si prendono cura dei loro ospiti e sono sempre gentili e disponibili. GRAZIE e a presto!
Famiglia con bimbo piccolo. Ci siamo sentiti sin da subito a nostro agio, gli appartamenti sono pulitissimi, nuovi e arredati con gusto. La villa si trova a pochi metri dal mare, nel cuore della puglia e delle sue bellezze. Il mare e la spiaggia sono puliti e le giornate scorrono all'insegna del totale relax. Nei pressi ci sono molti posti da visitare e soprattutto un ottima cucina da degustare. Resterete colpiti dalla padrona di casa Luciana, per la sua attenzione e cura per gli ospiti, oltreché per l'energia e la passione nel gestire l'attività. Consigliatissimo, soprattutto in periodi di bassa stagione, da non sottovalutare sono la presenza di un campo da tennis, noleggio piccole imbarcazioni e per chi è interessato vi sono numerosi lidi anche molto fashion e alla moda, anche se nei periodi di bassa affluenza la spiaggia libera è comodissima ed economica, utilizzando gli strumenti messi a disposizione da Luciana. Appena arrivati siamo stati accolti in maniera ineffabile dalla proprietaria che ci ha fatto subito entrare nello spirito vacanziero e rilassante della casa.
Chiudi gli occhi e immagina un mare cristallino e una spiaggia dorata tanto a portata di mano che il bar più vicino è il frigorifero di casa tua! Immagina un bagno notturno quando la luna illumina il mare mentre i tuoi figli dormono comodamente nel loro letto! Immagina una casa moderna e confortevole ed una veranda privata dove rilassarti su comodi divani! Immagina di poter raggiungere in pochi minuti posti meravigliosi e di assaporare il meglio della cucina pugliese! E se ancora non basta immagina un'accoglienza unica ed un'ospitalità che non dimenticherai facilmente! Ora apri gli occhi... non è un sogno!
Si ritorna sul luogo del... piacere infinito! Anche quest'anno, ferie settembrine nei pressi di Savelletri e dove se non da Luciana, nella splendida location di Alba Chiara, casa vacanze di Eco del mare? Un'ospitalità di alto livello, pulizia e servizi perfetti e, soprattutto, una proprietaria molto discreta ma sempre pronta ad incontrare bisogni e richieste, a volte anche prima di verbalizzarle! Luciana, Wonder Woman? Comunque per chi ricerca classe, coccole discrete, servizi di altro livello, Luciana ed eco del mare sono fatte per voi!